Ecospeakers
Sharon Abreu at Ecospeakers. Online video, online audio, and speaking testimonials are available here.
With Pete Seeger
Sharon Abreu, Michael Hurwicz perform a house concert with Pete Seeger. Sat., Feb. 5, 2000 in NY City.
WSSD, South Africa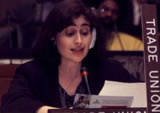 World Summit on Sustainable Development, Johannesburg, South Africa. August, 2002. Irthlingz provided music ...
Singing in the Park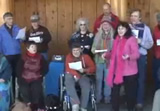 A Climate-Change Sing-Along on the Green, Eastsound, WA. Songs from "Penguins on Thin Ice". May 3, 2008.